Producing Tutorial Videos With a Video Production Company
Posted by G McD on / 7 Comments
Tutorial videos are big. You see them everywhere: YouTube, Instagram, Facebook, Linkedin and of course on company websites. If your company sells a product or offers a service that needs any amount of instruction to clarify how it will solve the viewer's problem, then you should be producing tutorial videos with a video production company.
Above is a tutorial video we shot and directed for Vichy that helps reduce the appearance of cellulite.
The statistics on the online viewing habits of consumers and for B2B are staggering. Mobile viewing of online videos has grown 100% year-over-year for several years now.
According to Biteable, by 2022 it's predicted that online videos will make up more than 82% of all consumer internet traffic – 15 times higher than it was in 2017. While 71% of people watch more video than they did a year ago. Online video viewing shows no sign of slowing down.
Read up on more in our post, Why Video Marketing Should Lead Your Content Strategy.
Okay, okay so a lot of people are watching videos online. I don't think anyone would argue with that. And a big chunk of online viewing is for product tutorials and how-to videos that teach you how to do a task.
Learn how to save money with how-to video production.
YouTube is place for tutorials
65% of people use YouTube to help them solve a problem. That's 2/3 of people that go on YouTube are looking for tutorial videos! A huge audience that includes your customers.
People generally watch tutorials to solve a problem. when they are in search of solutions, answers, improvement of specific skills, or deeper knowledge of a subject. So give it to them!
Related post: 3 ways to increase sales with video production.
Keep it simple stupid
This cliche has never been more appropriate when it comes to producing a tutorial video. Take out the fluff and get right into it. The shorter the better.
As a general rule of thumb, keep the length anywhere from fifteen seconds up to two minutes. In certain industries and for certain products, a longer video might be needed.
If it only takes thirty seconds to demonstrate how a product works, then make it thirty seconds. Don't add irrelevant details that take away from the instruction.
The main thing to remember is only keep what's needed to demonstrate how the product will solve the viewer's problem. That's the only reason they're watching. They're not watching because they want to learn about your mission statement. Save that for another video.
Shoot several videos in one day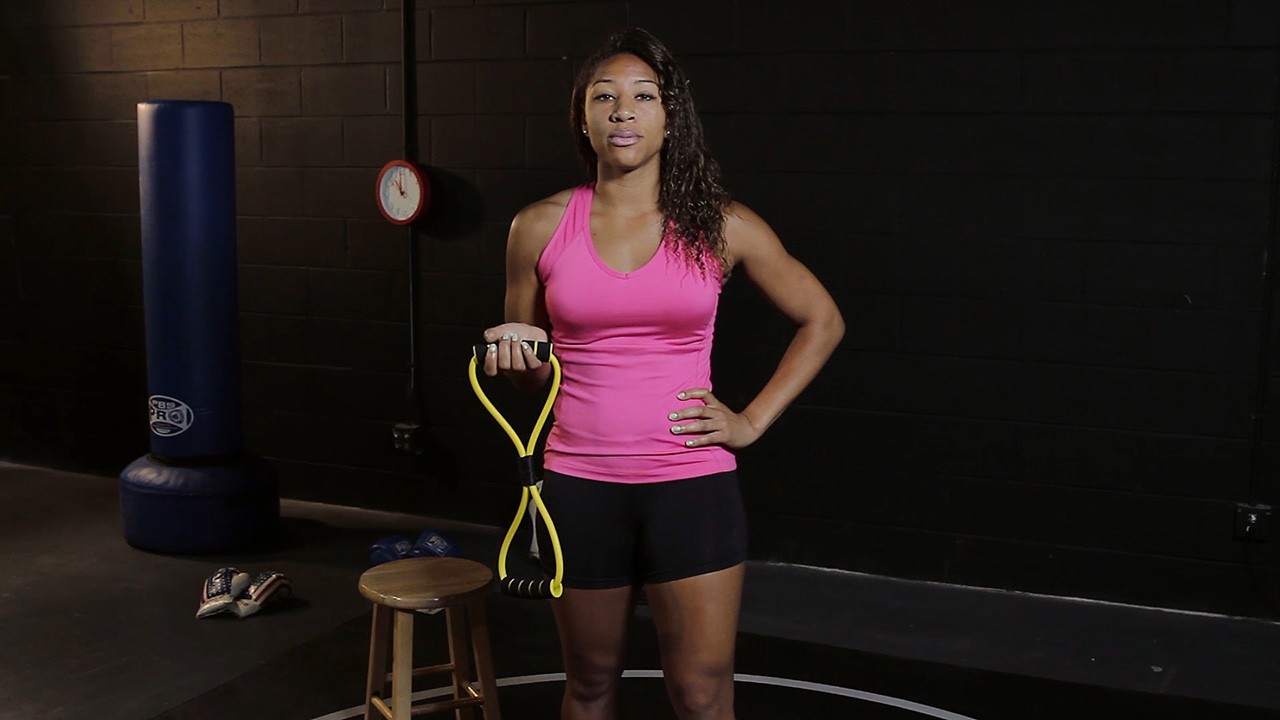 We produced a series of exercise How-To videos for a fitness trainer as seen in the above frame.
The great thing about how-to videos is they can usually be produced at a lower cost than other types of video marketing productions. Sometimes they can be shot and edited in a short amount of time and filmed in a simple location.
Other times, you might need to factor in a budget for graphics or animation to help clarify the topic. Or you might need to hire out a certain location or need actors.
Related post: video marketing for social media.
Below is an example of a simple fifteen second tutorial video we produced for a product that conceals gray roots. It's one of several videos that we produced for the client at the same time – another benefit of tutorial videos.
Often, you can shoot multiple videos in one day, creating content that can be posted over time on your website and social media.
Increase your ROI on videos, help your customers gain more insight into your products, increase engagement and drive sales and talk to a video production company about making tutorial videos for your business.
Read how to increase sales with ecommerce product videos.
About Gate5, a Los Angeles video production company
Gate5 is a full service video production company in Los Angeles producing engaging and results driven video content for big and small businesses and advertising agencies from tutorials to commercials.
We conceptualize, write scripts, secure locations and permits, cast actors, direct, film and edit social media content, branded films, product and promotional videos, web and TV commercials, episodic content and live video streaming production.
Need a tutorial video? Contact us to discuss your project.
Click here for our video samples.
Need monthly social content? Check out our monthly video production plans.