Corporate Video Production Post Covid 19: Portability and Efficiency
Posted by G McD on / 2 Comments
What will the post Covid 19 corporate video production world look like? To sum it up, the bigger your crew is the more it's going to cost in time and money to follow all of the new safety precautions.
Los Angeles county has issued it's safety protocols to allow filming to be re-started and they will not be easy or cheap to implement for bigger crews. This article by Deadline sums up the guidelines pretty well. The LA County website has a PDF with the complete guidelines.
Related: how captions in video marketing can increase and engage viewers.
Keep it small
While movie and TV production will be struggling with all the guidelines due to the typically large size of most film and TV shoots, the typical corporate video production should keep it small.
When looking to produce things like product videos, interviews, testimonials, social media content, executive and customer profile videos focus your creative on content that can be executed with a small cast and crew.
Related: how captions in video marketing can increase and engage viewers.
Having a crew of 2-5 people and a cast of 1-2 will make all the difference in being able to follow safety guidelines easily. The magic number is to keep the total to less than 10. If you can do that, it shouldn't cause any significant increase in cost or filming time needed.
In our post, New Norm for Video Production Companies in Los Angeles we discuss the new safety procedures you should be following.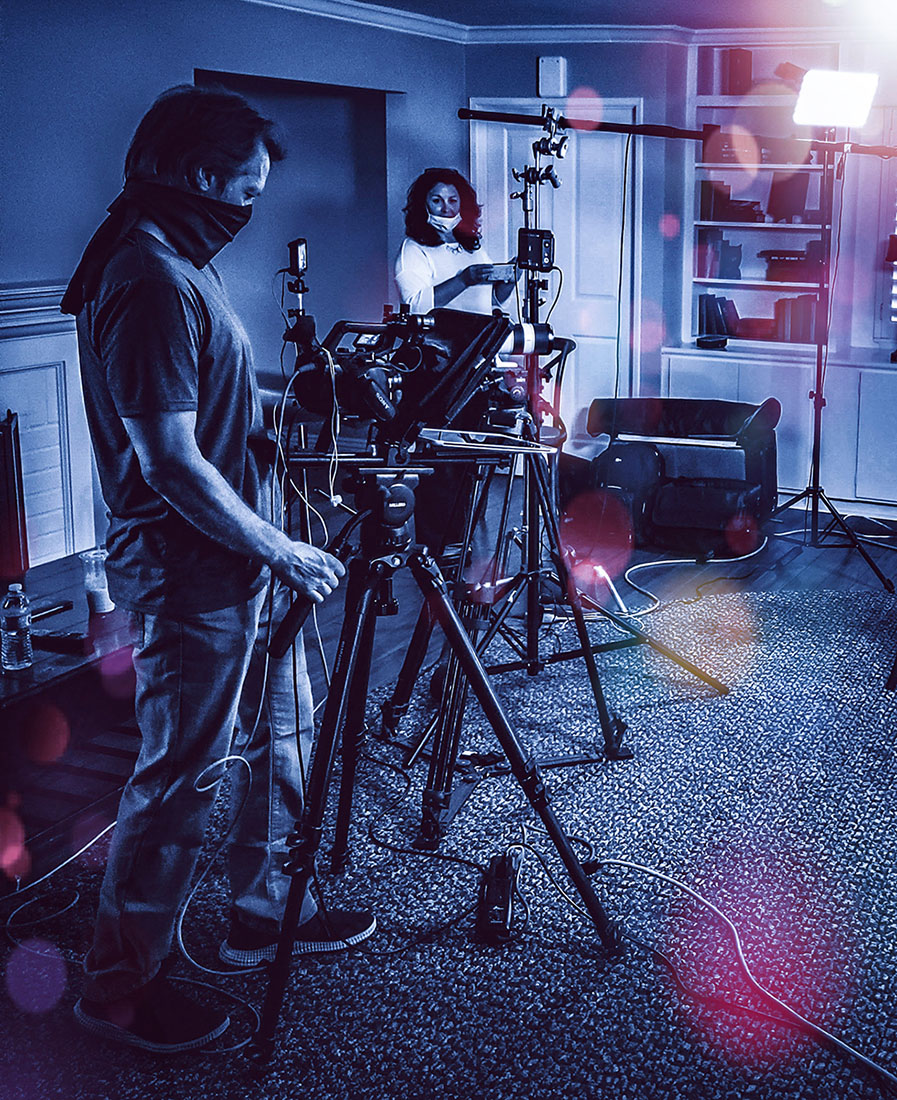 New gear for the new era
The Coronavirus pandemic and economic shut down along with these new safety protocols for filming has made us here at Gate5 re-evaluate how we can reduce our filming footprint while continuing to produce high quality content.
The goal was to create a portable filming package that would allow us to produce the same high quality that we always provide only with lighter and smaller equipment and crew. We've always had a fairly portable package for small shoots when needed, but there was room for improvement.
Obviously, you're going to have commercial productions and scripts that require more gear and bigger crews and we'll be producing those projects. My focus here is how in the post Covid-19 environment, can we reduce the possibility of transmitting the virus on a typical small corporate video shoot by reducing the crew needed.
Related: Los Angeles video production shut down: finish your writing project.
So with portability and efficiency in mind, we put together what we think is a gear package that packs a lot of punch while keeping it small and nimble. The key was going with all LED lights including some that are on flat mat that can be mounted just about anywhere and swapping out some bulkier items like tripods, stands, etc with new lighter versions.
Big ideas, small crew! That's the way to stay safe while reaching your busines goals with corporate video production in the post Covid-19 world.
Read our blog, Why Video Marketing Should Lead Your Content Strategy.
About Gate5, a Los Angeles video production company
Gate5 is a full service video production company in Los Angeles producing engaging and results driven video content for big and small businesses and advertising agencies from tutorials to commercials.
Need a break? Of course you do! Take 1.5 minutes and watch No Words, a video poem. A short film about nature and our neglect of it.
Read about 5 tips on video marketing and business problems video can solve.
We conceptualize, write scripts, secure locations and permits, cast actors, direct, film and edit social media content, branded films, product and promotional videos, web and TV commercials, episodic content and live video streaming production.
Need a video? We'd love to hear about it and to see how we can help. Contact us to discuss your project.
Click here for our video samples.