Beauty and the Beach
Posted by G McD on / 4 Comments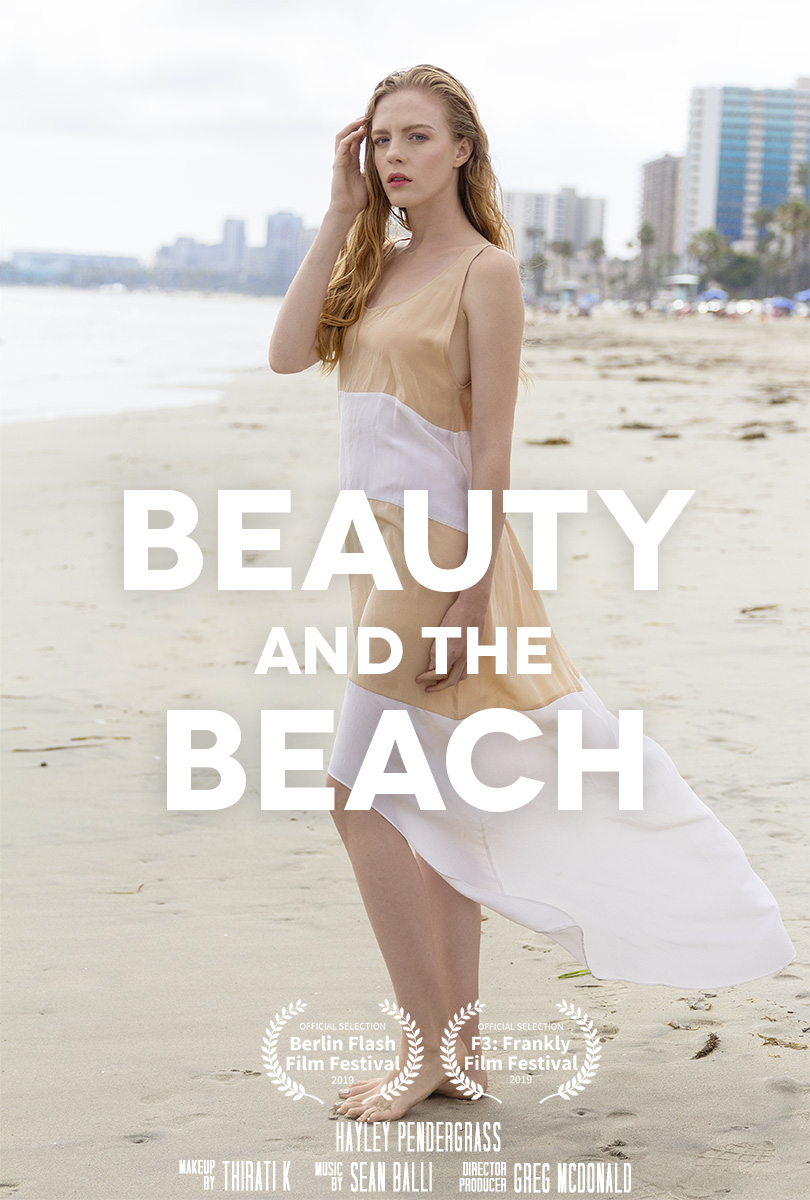 Beauty And The Beach will be screening in the F3: Frankly Film Festival in Ohio and in the Berlin Flash Film Festival!
What is an eco-fashion film?
The film is an eco-fashion film. Say what? That's right, I said it. It's an eco-fashion film. The subject matter is about the environment and its degradation and what is happening in our oceans and on our beaches and it features fashion too.
It's about a woman who takes a walk on the beach and discovers the new normal. It was pretty much improvised between the actress, Hayley Pendergrass, the makeup artist Thirati K and myself. We had a general idea of what we wanted to do and when we got to the beach, we shaped the story around what we found on the beach and what was available to us.
Related post: fashion film director Greg McDonald at the La Jolla Int'l Fashion Film Festival.
Did you have a script or was it improvised?
The key for me is to do as much planning as I can before a shoot but then to stay open to what's in front of me on the day of the shoot. The film you wind up with is what you shoot on the day, not what you have in your head beforehand.
If you're open to ideas while shooting then you can incorporate changes based on what you have available on the day of the shoot to tell the story better. But you must do your work beforehand. Having a firm grasp on the theme and what you're trying to say gives you the spine to hang everything off of so you're not blowing in the wind not knowing where you're going.
If you hold on to your preconceived ideas and are not open to what's in front of your face while shooting, you're missing opportunities to make the story better.
Related post: top beauty videographer.
We wanted to keep Beauty and the Beach very short and we did – it's one minute long. It's a bit of a challenge telling a story in such a short amount of time but I'm happy with the result. Although, I'm not happy about the subject matter. It was quite disgusting seeing the amount of trash on the beach. I would've much preferred to not have it there and being forced to come up with a story about something else.
Check out the still photos and behind the scenes shots on director Greg McDonald's Flickr page.
Read more on our post, How To Shoot Beauty At The Beach.
Watch Beauty and the Beach here.
Watch the sci-fi fashion comedy, Nowhere In The Universe.
About Gate5, a Los Angeles video production company
Gate5 is a full service video production company in Los Angeles. We're a one-stop shop video agency that provides everything from concept development to delivery or any part in between.
We produce branded films, promotional videos, product demo tutorials, explainer videos, episodic content, docu style corporate profiles, TV commercials for broadcast and live video streaming production. We work nationwide and primarily service the Southern California area.
More of our beauty photography.
Click here to check out our video samples.
Contact us to see how we can help your business with video or photography.
Go to our fashion photography