Nowhere In The Universe
Posted by G McD on / 3 Comments
Nowhere in the Universe is a sci-fi fashion comedy film directed by Greg McDonald about desperation – no matter how desperate you become, some lines can never be crossed.
Update: it won Best Comedy Film and Audience Choice Award at the LA Underground Film Forum! It's also a semi-finalist in Cinefest LA.
The location
We shot this in two different locations in the high desert, one near Twentynine Palms and the other about 30 minutes north of Amboy, home to the famous route 66 pit stop, Roy's Motel & Cafe.
It turned out to be quite a challenge finding a location that would work. It had to look like there was absolutely no civilization around – there couldn't be any buildings, telephone poles or anything else within sight. Or at least what we could see on camera. It's surprising how much civilization there is in the desert when you don't want it. It's kind of like a location always seems quiet until you want to shoot there. I think I took 4-5 trips out to different parts of the desert before I found these two places.
Related article: the shortest horror movie in the world.
The shoot
Before the shoot we had a test day with the alien makeup and prosthetics. We couldn't do a complete look beforehand as it would ruin the prosthetics or at least make them very difficult to stick to the face properly later on the day of the shoot. The test was a big help and it gave us an idea of what we would have to do the day of the shoot in terms of the makeup and body paint.
We had a great time making this film with two wonderful actors, Kaitlyn Clare as the alien and Brandon Bernath. The only thing I'd do differently is I wouldn't shoot in two locations that are almost an hour apart. Ha!
After spending the morning getting the makeup and prosthetics done, we then spent about about an hour and half driving between the two locations. We got what we needed but it would've been nice to have just a little more time. However, I do best with limitations so I take it back, we did it just as it was meant to be!
Watch a short timelapse video of the alien makeup being applied and a behind the scenes video.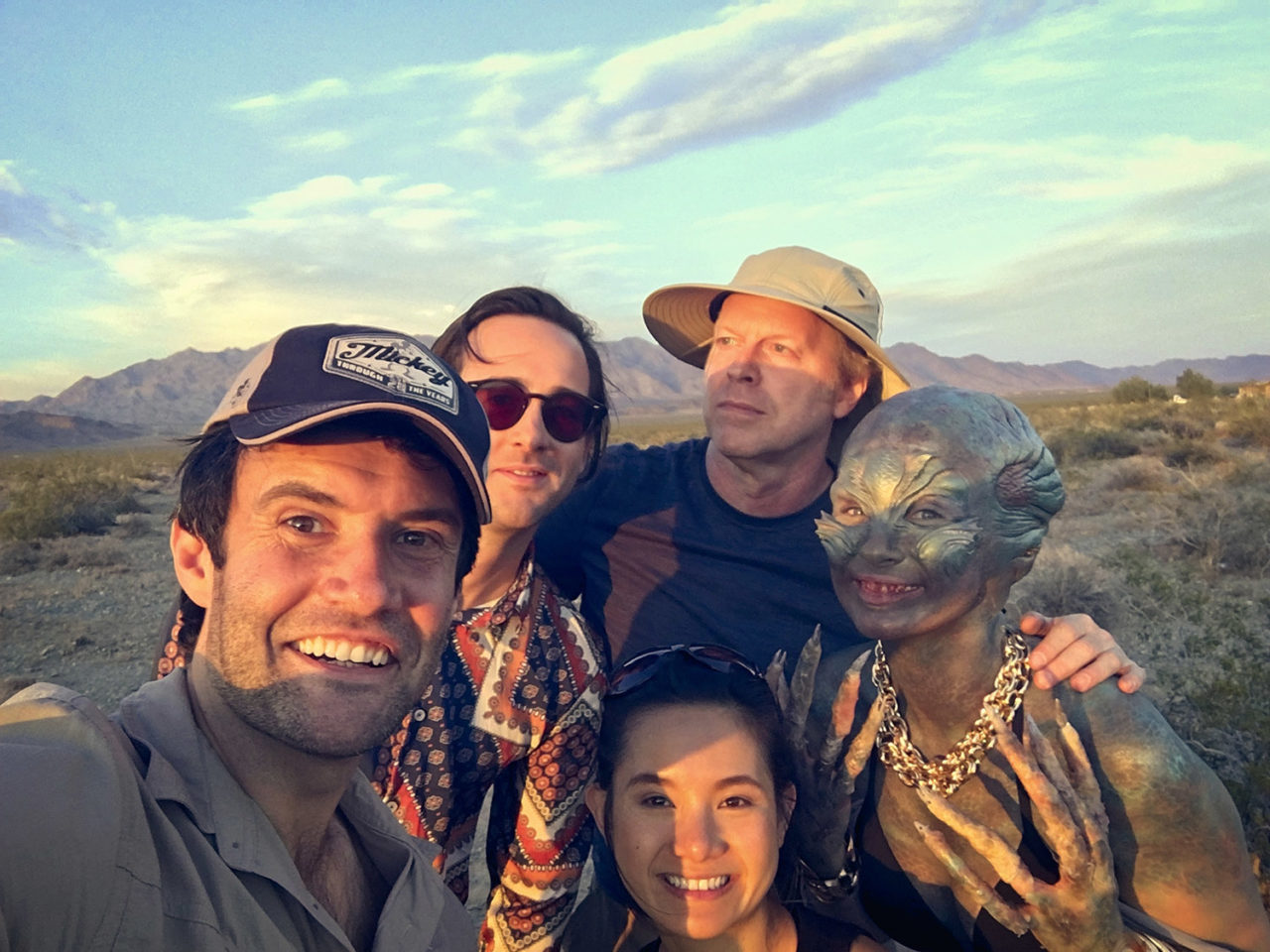 Nowhere In The Universe and The Selfie That Changed The World, written and directed by Greg McDonald are now on Amazon Prime Video.
Need a Director and/or production?
Give me a hollar if you're looking for a director for your film or commercial video. I'd love to talk to you about it. Gate5 can provide production and post.
Read about my eco-fashion film, Beauty and the Beach.
For narrative films, humor and comedy character based stories are my specialty. When it comes to commercials, I've done everything from construction , tech, manufacturing, financial services, product demos, to beauty, makeup and fashion.
Learn more about Greg on his writing-directing website.
About Gate5, a Los Angeles video production company
Gate5 is a creative video agency and full service video production company producing engaging and results driven video content for big and small businesses and advertising agencies and we produce narrative films.
We conceptualize, write scripts, secure locations and permits, cast actors, direct, film and edit viral videos, branded films, product and promotional videos, web and TV commercials, episodic content and live video streaming production.
Click here for our video samples.
Contact us to see how we can help your business with video or photography.
Check out our fashion photography or beauty photography.